Rising Costs: Retail Industry and Funeral Industry
and do not necessarily reflect the views of
UK
Essays.
The retail industry feeds more than 64 million people every day in
UK.
The retail sales account for £177.5bn makes 51% contribution to
UK
economy. It employs 3.8 million people make up 14% employment in
UK
(IGD, 2015).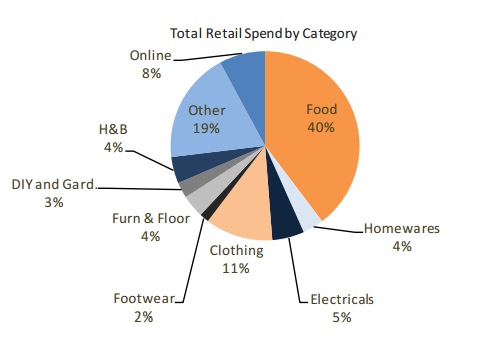 Figure: Total Retail Spend by Category (Retail Economics, 2016).
As the figure shows, the retail industry can divided into several categories. The largest part is food retailer. Clothing also plays an important part in retailer industry. Moreover, the online retailer becomes more and more popular (Retail Economics, 2016).
With the development of the technology, the manufacturers have increased labour productivity by 20.7% in the last 10 years while the productivity of the agricultural industry has risen by 20% in the last 25 years (IGD, 2015). Another main growth of the retail industry is depends on the consumer spending. The consumer will be attracted by the discount and the good service. There are a great number of researches to distinguish groups by using different retail strategy. For large business, it has enough finance and ability to achieve economic of scales. Therefore, low cost strategy may be better. For small business, the customer service and product specialization or customization rather than low price may be widely accepted (Megicks, 2011). The SMEs in retail industry are more than any other industry arrives to 318,470 (IGD, 2015). Tesco is the largest retailer in
UK
consists of £54.433 million sales. Sainsbury, ASDA is also larger include around 23 million compared with others.
Over the years, the market share of the biggest companies in the industry dropped while the discount retailers such as Aldi and Lidl had a really significant growth (Source).
Retail:
IGD (2015). THE UK'S FOOD AND GROCERY INDUSTRY. Available at: 2015//www.igd.com/Documents/Other%20downloads/Grocery%20Industry%20A5%20booklet%20update%20online%20version.pdf
Phil Megicks (2001) Competitive strategy types in the
UK
independent retail sector, Journal of Strategic Marketing, 9:4, 315-328, [Online] Available at: //www.tandfonline.com/doi/pdf/10.1080/09652540110079029?needAccess=true
Retail Economics (2016)
UK
Retail Sales //www.retaileconomics.co.uk/download/Sample%20-%20UK%20Retail%20Sales.pdf
Around £1billion was estimated to be gained with over 600,000 funerals taking place in
UK
funeral market annually (UK Funerals Online). The price is varies enormously due to the Funeral directors' professionalism. The industry is worth £1.7bn every year. According to the Office for National Statistics, The death rate rose at its fastest pace since 1968 (Financial Times, 2016). The death rate in the United Kingdom increased in 2012-2013 also supported the industry growth (IBISWorld, 2016).
The two
UK
market leaders of funeral group are the Co-operative Group (CWS Ltd) and Dignity Caring Funeral Services (Dignity Plc). The Co-operative Group (CWS Ltd) has over 675 branches across the
UK
and conducts around 90,000 funerals a year. They also own the North Eastern Co-operative. Dignity has just over 500 branches and conducts 75,000 funerals a year. They together control over 25 per cent of the market (UK Funerals Online). The rest of the funeral company is largely made up of small, independent businesses.
According to the line chart, the price of the funeral has increased year by year. The Co-operative Group reported a 9.9 per cent rise in funeral sales while Dignity, the only listed
UK
funeral services company said the pre-tax profits had grown by almost a quarter for 2015. These two main companies controlled about 30 per cent of the market shares. According to market analysts IBISworld, the industry is predicted to expand by 2.9 per cent in 2016 (Financial Times, 2016).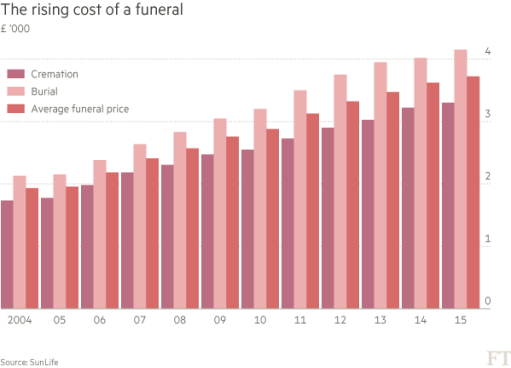 Figure: The rising cost of a funeral (Financial Times, 2016).
Funeral:
UK Funerals Online (no time). The
UK
Funeral Industry. Available at: //www.uk-funerals.co.uk/funeral-industry.html
IBISWorld (2016) Funeral Activities Market Research Report. Available at: //www.ibisworld.co.uk/market-research/funeral-activities.html
Financial Times (2016). Funeral business reaps profits as
UK
death rate soars. Available at: //www.ft.com/content/b6053e72-fd8b-11e5-b3f6-11d5706b613b
The
UK
insurance industry the largest in Europe and the third largest in the world, it plays an essential part in the UK's economy, managing investments of over £1.9 trillion. It also makes £29 billion contribution to GDP in 2012 and employs around 344,000 individuals (Association of British Insurance, 2014).
Insurance is a contract which represented by a policy for individuals or entity to seek financial protection from an insurance company (investopedia). For insurance industry, there are different types of insurance such as auto insurance, home insurance, health insurance and medical care (All Kinds of Insurance, 2017).
The main player includes Legal & General, Aviva and Prudential.
Aviva is the UK's largest insurer by providing insurance, savings and investment products to around 31 million customers worldwide. Aviva aims to builds positive contribution to society to accomplish sustainable business and powerful brand. The Legal & General over 175 years aiming to provide best possible product s as well as clear and fair service to make sure the safe pair of hands of money.
For Prudential, it manage £562 billion of assets to serve around 24 million customers. It has a long-established leading provider of life and pensions in
UK
and the assets excess of £255.4 billion.
Insurance:
//www.investopedia.com/terms/i/insurance.asp
All Kinds of Insurance (2017). Available at: //allkindsofinsurance.com/
Association of British Insurance (2014) Statistics. Available at: //www.abi.org.uk/Insurance-and-savings/Industry-data
//www.pru.co.uk/about/
//www.aviva.co.uk/about-us/
//www.legalandgeneral.com/about-us/